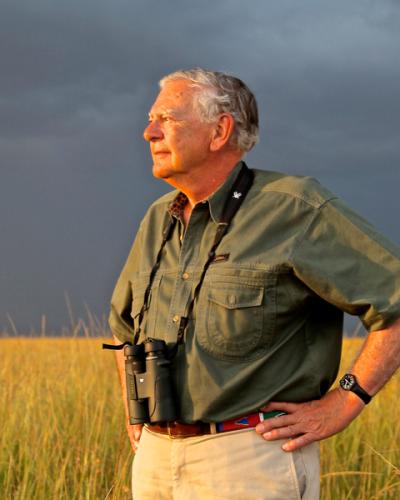 Save the Date!
Featured speaker
Donald C. Johanson PhD
Lakeside at the Phoenix Zoo
Friday evening, April 5, 2024
5:30 pm "Lemur Lane" Cocktails and hors d'oeuvres 
7:00 pm Lakeside Dinner and Program
Save the Date to join the Institute of Human Origins (IHO) Research Council and IHO Director and Professor Yohannes Haile-Selassie for a lively and engaging evening with world-renowned paleoanthropologist Donald Johanson as we celebrate the 50th anniversary of the discovery of IHO's "founding fossil," Lucy! Johanson is an Honorary Member of The Explorer's Club, speaker and guide for the National Geographic Society, and ASU Virginia M. Ullman Chair in Human Origins, as well as Founding Director of the institute.
In November 1974, a young scientist—Donald Johanson—was on his third expedition to the
deserts of Hadar, Ethiopia, with an international team of scientists. Johanson and graduate
student Tom Gray were heading back to their Land Rover when Johanson spotted a bone sticking out of the side of a hill—the first fossil bone that would become one of the most famous human ancestors—Lucy! Though controversial, Johanson would name it as a new species—Australopithecus afarensis. 
Johanson has spent his entire career as a public voice for the science of human evolution and an advocate for human's responsibility to connect with the natural world—speaking with public and scientific audiences around the globe.
Don't miss this chance to meet Dr. Johanson as he recounts the details of that eventful day, the importance of thediscovery, and how connecting the human past is important to our global future. 
Tickets start at $300 per person* 
This event benefits the ASU Institute of Human Origins' public outreach programs. Become an event sponsor and be seated with scientists and internationally known experts in anthropology from ASU and around the world. 
Information on table sponsorships to come. Interested? Contact Julie Russ at jruss@asu.edu to secure your sponsorship today!