The Legacy of "Lucy": Return to Hadar with Donald Johanson
A Lucy 50 Anniversary Event—Ethiopia 2024
This trip is full! 
January 17 through 27, 2024
Overview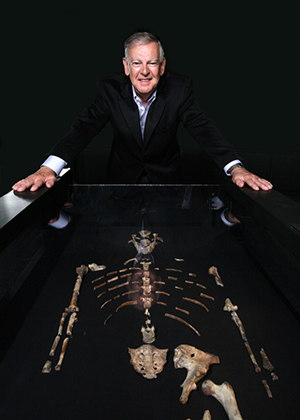 Lucy!
Begin in the Ethiopian capital of Addis Ababa at the National Museum of Ethiopia to view the original fossil bones of Australopithecus afarensis—Lucy!—with world-renowned paleoanthropologist and Lucy discoverer, Donald Johanson PhD. Dr. Johanson will be joined by Ethiopian-born IHO Director Yohannes Haile-Selassie and leadership of the museum to reveal the fossils rarely seen outside of the museum laboratory.
Dr. Johanson will explain how the fossil was discovered and why this fossil is so important to our understanding of how we "became human."
Beautiful Ethiopia
Your adventure will continue to see the Lake Tana monasteries and the Blue Nile Falls. You will witness the Timkat Ceremony and see the amazing walled fortresses in Gondar.
In Lalibela, you will visit thousands-year-old rock-hewn churches, carved into the ground during the 12th century. Heading to the Simien Mountains, you will view the protected and fascinating "bleeding heart" Gelada baboons.
Hadar—In the Footsteps of the Discovery!
Finally, you will spend two nights at a tented camp close to the Lucy discovery site—just like researchers have done since Johanson discovered the Lucy fossil in 1974! You will see the Lucy site with Dr. Johanson and visit a nearby national park with local flora and fauna.
The full itinerary, prepared by our travel partner, Journeys By Design, is available here:
Costs                                                                            
IHO is partnering with Journeys By Design (https://journeysbydesign.com/) Chief Exploration Officer Will Jones, a Conde Nast Traveler Top Traveler Specialist and Travel + Leisure A List company, to bring this once-in-a-lifetime excursion to you. Jones has chosen only the top accommodations and private air transfers for this trip, plus the rare opportunity to stay in a bespoke tented camp overnight at the Hadar research site.
The cost per traveler is below based on 18 minimum travelers. This trip will accommodate up to 24 travelers for this special adventure.
18 Travelers: US$13,000 per person sharing
The above costs are all based on travelers sharing twin/ double rooms. A single supplement will incur a 12% surcharge. International airfare is not included in the above price.
Support IHO                                                                                                               
In 2024, the ASU Institute of Human Origins is celebrating the 50th anniversary of the discovery of "Lucy" with a "Year for Human Origins." This trip is one of the premier events for that year and promises to be a trip that will never be replicated. IHO organizes our trips as "friend- and fund-" raising ventures. In addition to the cost of the trip, which you will pay Journeys By Design directly, IHO asks for a charitable donation of $5,000 per person* to support student scholarships, research, and education outreach.
In addition to the benefit you receive from this travel experience with Dr. Johanson, IHO will provide you one ticket to its New York Gala and Tempe Gala dinners celebrating the 50th anniversary in April 2024 (Tempe) and November 2024 (NYC) (FMV is to be determined).
*All funds will be deposited with the ASU Foundation for A New American University, a nonprofit organization that exists to support ASU. Gifts in support of ASU are subject to foundation policies and fees. Due to the fair market value of benefits provided, only payments in excess of fair market value (FMV) for the two dinner tickets (est $400) may be considered a charitable contribution. Please consult your tax advisor regarding the deductibility of charitable contributions.
Contact
Julie Russ, Assistant Director
ASU Institute of Human Origins
jruss@asu.edu
480.727.6571